Revenue Management never stops
by Neville Isaac - 3 April, 2020
Esta semana hemos actualizado las cancelaciones y recogemos datos desde mayo hasta finales de julio para determinar si hay algún cambio en las tendencias.
Madrid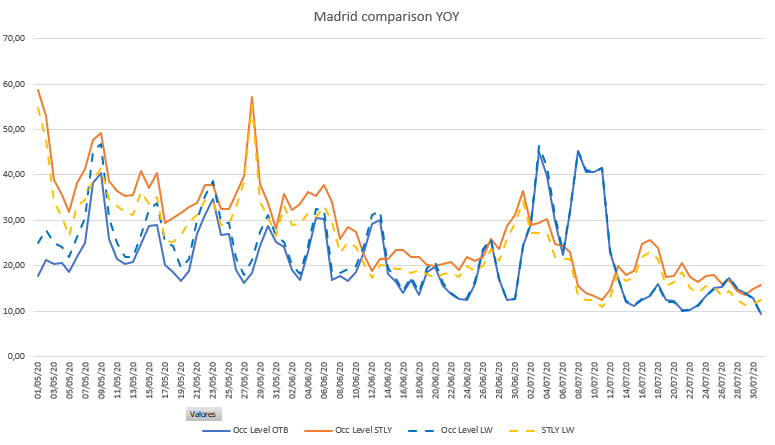 We have added into the graph the comparison with last week in terms of the Same Time Last Year (STLY) – this is shown on the dotted orange line.
Conclusions we can draw from this week.
• The trend of negative pick up which was have seen in previous weeks has not changed. This means that the on the books situation for May has worsened by – 3 percentage points, and at the moment it seems likely that this trend will continue in the future.
• From mid-June onwards, there are no further cancellations – suggesting that customers are waiting to see what happens before.
• However, looking at the STLY data from June onwards, we can see a gap opening up compared to last week, showing that last year people were already making reservations for this period. This would also suggest a negative impact on these months, although not as pronounced as in May.
Barcelona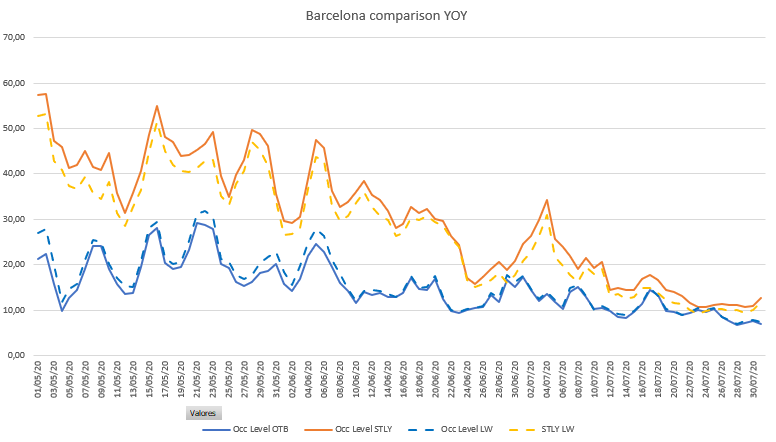 The situation is very similar to Madrid, both in terms of negative trends in May ( -2 percentage points since last week) and some stabilization in the rate of cancellations from the middle of June onwards.
Similarly, we can also see a gap opening up in the STLY data for June and July, also suggesting that these months will be significantly impacted also.
We also took a look at the pricing for each destination, and the picture is almost exactly the same as last week, suggesting that hotels are not paying much attention to prices right now. Whilst we understand that there are many priorities right now, we do recommend to keep on top of these dates , especially from June onwards.
Remember:
Revenue Management never stops!