Product Update: sending recommendations
by Julia Rey - 30 September, 2021
Product Update: sending recommendations
Beonprice improves the experience of viewing data and sending recommendations, with its new table view display.
Sending recommendations for pricing strategies and restrictions has never been easier on Beonprice. The new version of recommendations allows more data to be displayed on a single screen and decisions to be sent to sales channels in a single click.
The new Beonprice functionality allows customisation of the display mode and overriding of any type of recommendation, as well as the management of recommendations per sales channel.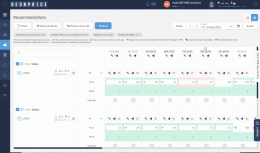 New recommendations table-view
Reviewing and sending your recommendations and restrictions has never been easier than before.
Send your recommendations in one click

.

Open the recommendations table view, review the changes easily and click send. As simple as that!
Monitor changes in a personalized and agile way

for any type of recommendation: price or restrictions (MLOS, closing of sales), customizing the filters.

Check the status of the recommendations sent

through the audit side report without having to change the screen.