Strategic Revenue Optimisation Solution
We are an RMS with three levels of service.
Choose the one that best suits your needs.
Get to know our strengths
They are our hallmark and all our plans count on them.
Our Unique Selling Point: HQI™
Beonprice has developed its own algorithm with the most accurate data of the market.
We use Artificial Intelligence and Machine Learning to stay on top of things.
Capturing market demand cannot be solely based on a low price.
Only Beonprice takes into account the quality of your hotel and your competitors, to make sure you capture the demand based on spot-on positioning.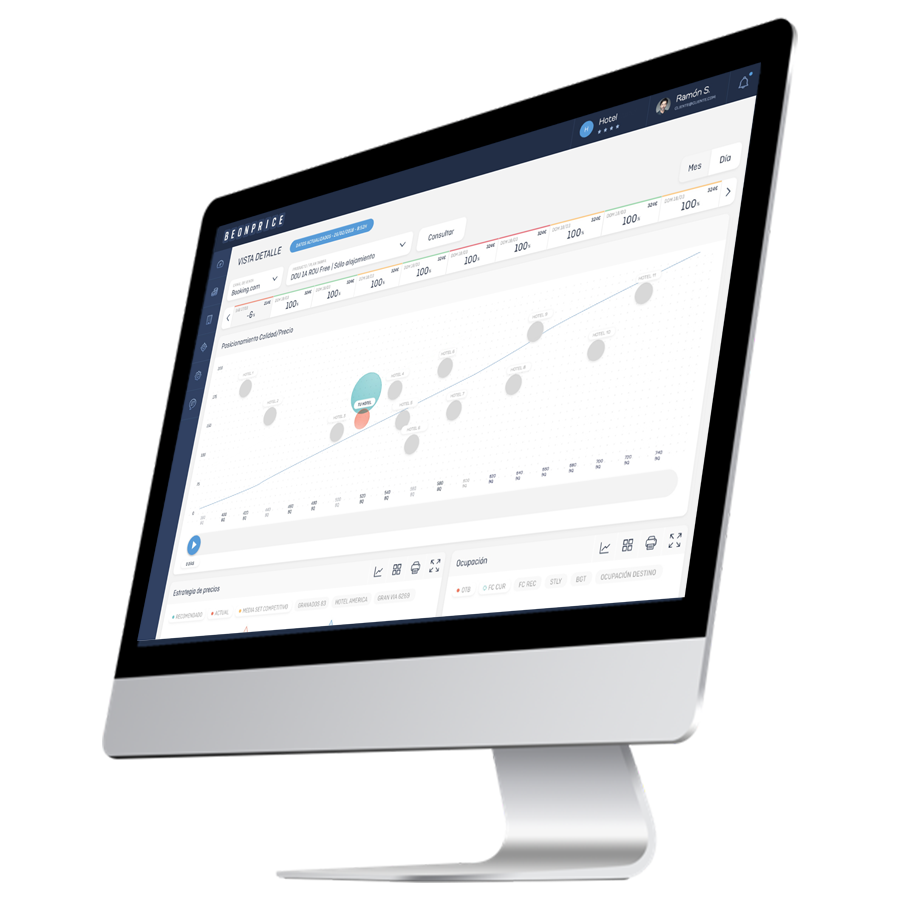 Make it simple
An overview of the market, based on quality data, already filtered.

Automated publication of recommendations.

We provide more flexibility than other solutions by enabling you to create your own events, being able to promptly react to demand changes.

You can take into account cancellations of events and make decisions based on the changed demand situation.

We enable our customers to take full control of the situation by overriding both forecast and rate recommendations and to thereby further fine-tune the accuracy of the tool.
One stop shop
No need to buy pricing data from other suppliers.

It has a Market Intelligence functionality integrated into the RMS, which provides information on the tariff movements made by the competition, supply, demand forecast, disparity analysis and online reputation analysis.


We deeply care about every single customer, no matter their size
Our experienced RM specialists take the time to analyse our clients' individual challenges and define the best course of action with them.
Continuous support from our team of experts to better use our tool.
Our multilingual team (Spanish, French, German, English) specialized in revenue management.
We help your business grow by empowering your team
The empowerment of our customers and the transformation of their revenue management culture is one of our top priorities.
We educate all of them via our Beonprice Academy.
Conoce nuestras funcionalidades
To optimise your establishment's revenue, our system provides you with a daily update of price recommendations, room type overbooking, minimum stay restrictions and recommended closing and opening sales.
Using Beonprice's artificial intelligence algorithm, you will be able to visualise forecasts at any level (Segment, Room, Rate Plan, Channel) and for any KPI (RevPAR, Room nights, ADR, Occupancy, Revenue).
Impact of events on demand
Use our catalogue with more than 200 references or add customised events, to keep a reliable and historical record of what happened for each check-in date and increase the accuracy of destination demand forecasts.
Detailed overview of production data including comparison of bookings against the same time in the past, your budgets and demand forecasts, with the ability to compare against historical data of your choice.
Become part of our Revenue Manager community, through the training you need to empower your team. If you want to know more about our Revenue Management certificates, click here.
From the moment of integration and onboarding our specialised team of revenue managers will be guiding you and helping you to get the most out of our tool. You will have access to our knowledge centre and private training sessions to maximise the use of our RMS.
We integrate all the data that the hotel ecosystem may need: market data (competitors, disparities, reviews), transactional booking information from PMS or BI and two-way integrations to send recommendations to Channel Manager or PMS. You can find out more about our partners here.
We understand that hotels need different solutions for different products, so we offer the possibility to adapt the tool to your rate structure model
Competitor sales strategies
As a supplement to the analysis of your strategy, the Beonprice Competitors module shows you in great detail and up to date all the available rates of your competitors based on room type, occupancy, regime, etc.
Advanced RMS configurations
You will be able to configure aspects such as inventory, rate structure, segmentation or budgets in a fully customised way.
In addition to being incorporated in the HQI calculation and, therefore, taking it into account for your recommendations, Beonprice offers you all the details of your opinions extracted from Booking.com and Tripadvisor comparing your positioning historically by department and customer profile against your competitors.
Don't lose focus on optimising your strategies, we guide you to what is especially relevant for your hotel, from configuration to changes in demand, price disparity or price changes of your competitors.
In case you have a very specific strategy, we offer you the possibility to customise price recommendations, closures and minimum stays when you need them.